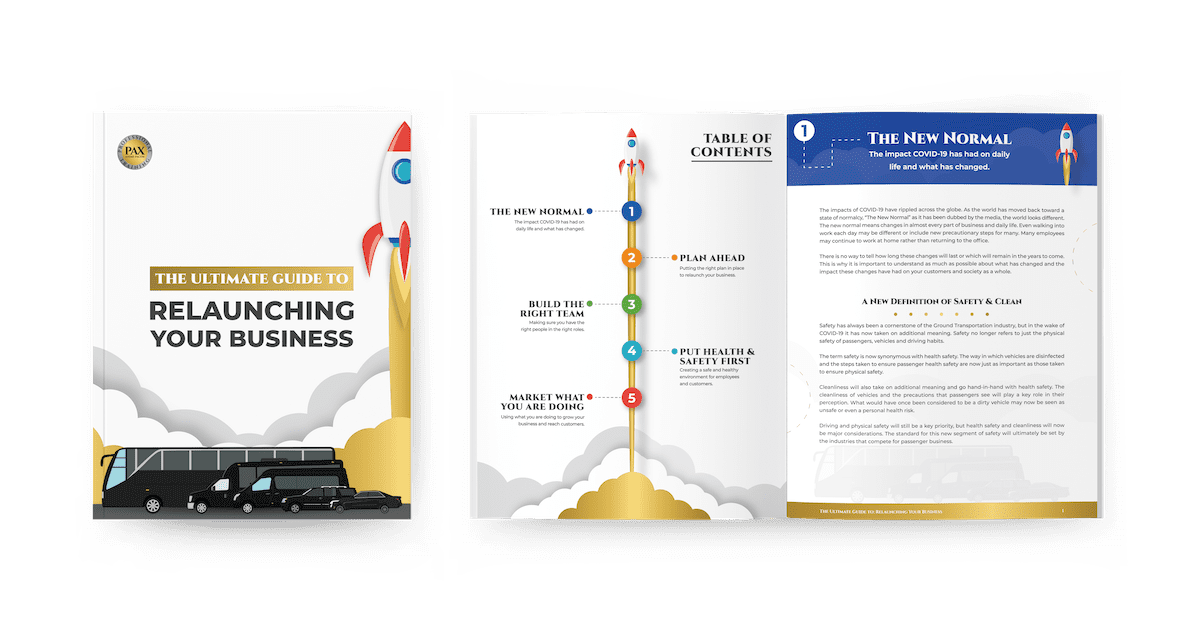 This guide to re-launching your business will help ensure you are a step ahead of your competition and get your business back on track. What you will get from this guide:
A solid understanding of what the New Normal means for you and your customers
An easy to follow outline to put together your Relaunch Plan
Step-by-step guidance on how to build or rebuild your team
The tools and information you need to develop an effective Health and Safety Plan
Strategies for how to take what you are already doing and turn it into effective marketing
The more you do now the quicker and easier it will be to Re-Launch and Re-Build your business.
Don't wait! Invest in the future of your business, NOW!
What does the guide cover?
The impact COVID-19 has had on daily life and what has changed:
A New Definition of Safety & Clean
Customer Service & Presentation
Social Distancing & Personal Protection
Increased Convenience & Flexibility
Fear of the unknown
Frustration & Refusal to Conform
The gradual return of travel

More of the Same

Opportunity in Change
Putting the right plan in place to relaunch your business:
Your Relaunch Plan

Summary

Employee re-hiring and re-training




Health Safety Plan

Marketing Plan
Additional Things to plan for

Regression & Change

Budgeting & Finances

Restarting Vendor & Other Services

Pivoting, Adapting & Diversifying
Making sure you have the right people in the right roles:
Onboarding & Company Culture

Having a Training System

Retraining and Ongoing Training

Choosing Who You Hire Wisely
Building Your Brand
Getting Your Marketing Ready
Start Reaching Out Now
Leaving a Long Lasting Impression
Watching Other Industries
Creating a safe and healthy environment for employees and customers:
OSHA Requirements & Categorization

Putting Together Your Health Safety Plan

Precautions for all employees

Personal Protective Equipment

Facility and Office Staff Safety
Vehicle & Driver Safety
Screening Procedures and Precautions

Vehicle Cleaning Methods & Safety Systems

Passenger Health & Safety

Agencies to Watch & Follow
Using what you are doing to grow your business and reach customers:
Understanding New Marketing Battlefronts
Sharing Your Health Safety Plan
Ensuring Your Company Stands Out
Focusing on People Not Vehicles
Developing a Clear & Concise Message
Building Your Brand
Getting Your Marketing Ready
Start Reaching Out Now
Leaving a Long Lasting Impression
Watching Other Industries
FREQUENTLY ASKED QUESTIONS
Who is this guide for?
Owners, Executives and Managers who operate ground transportation services.
How is this different from other Covid-19 guides?
This comprehensive guide will help you develop your Relaunch Plan, rebuild your team and put together your marketing strategy. In addition, it includes COVID-19 guidance for your Health Safety Plan.
How long is guide?
The guide is 40 pages of actionable content designed to help you develop your relaunch plan.
How long will it take to go through the guide?
You should allow between one to two hours to make your way through the guide and develop your plans.
How soon will I have access?
Instantly! Once you purchase the guide you will immediately be able to download it and get started.