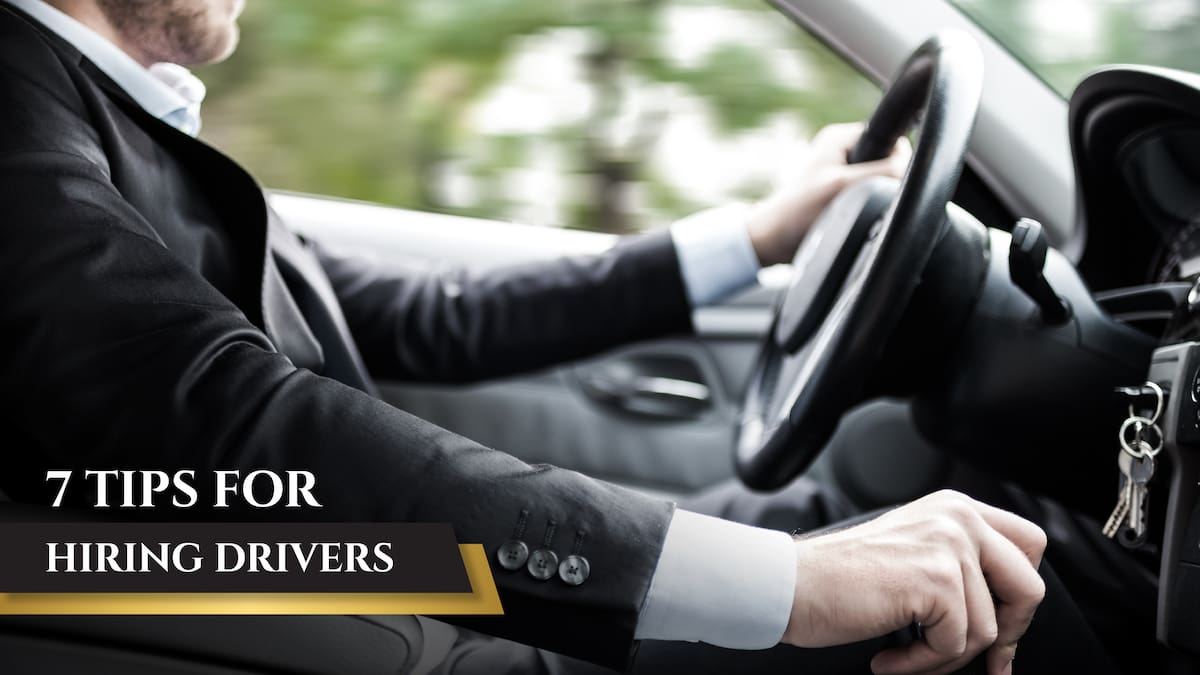 When it comes to running a ground transportation business there are few things you will do that are as important as hiring the right team. Even if you find someone who can drive well enough to get the job done, there are aspects of the job that need to be considered as well. What about having someone with the right personality who can make your customers feel at ease? You also want to ensure that your team is able to ensure that passenger's experience using your company is top notch. To help you in your search for the perfect driver, here are 7 tips for hiring.
1. Be Clear About What You Are Looking For
Give as much detail as possible, and if there are certain things that are non-negotiable when hiring, make sure those expectations are clear up front. If you're not clear on exactly what you are looking for, don't expect to find it. Even though a driver might be good at driving, consider whether or not they would be a good fit with your company culture and what your passengers expect. Remember: This is an investment; treat it like one!
2. Be Up Front About The Work Schedule And Available Hours
In a perfect world drivers would be available to work 24/7, but most won't, and it is important to clearly set your expectations on their working hours up front. You should also discuss any slow periods or times when they might not have as much work as they normally would. Once you have gone over this with them you need to ensure that they are a good fit before hiring them. Do they want to be full time or part time? Or do they want a side job that allows them free time? Having these conversations candidly and up front can help avoid issues once you bring someone onboard.
3. Be Prepared To Interview
When most people think about being prepared for an interview, they think about when they are the one being interviewed, however it is just as important to prepare when you are the one that will be doing the interviewing. The more prepared you are as the interviewer, the easier it will be to find a great candidate that fits your needs perfectly! Start by reviewing their resume and application. Then make sure you have your questions ready. Although some off-the-cuff questions can be good you have a set of standardized questions you use. For example the base question set we provide in The Limousine Operators Guide to Hire Train and Retain.The is where you'll learn what qualifications and experience they have. Also keep in mind they you will need to determine if a potential driver will fit in well with your company culture and if he/she will be a good fit for your company culture.
4. Consider Their Experience
Regardless of what they will be driving, it is important to look at their experience. If you are looking for someone who can operate in New York City traffic, then they need to have enough driving experience in busy areas. If they have worked for a competitor or in the industry before you also need to consider that they may have bad habits or bring with them approaches that might not line up with how your company does things. Just because someone was trained, it doesn't mean they were trained properly and retained the information. A good tool to gain insight into this area with applicants is using hypothetical situations. Two key things to look for in their responses are how quickly they provide it and how confident they are in it.
5. Test Their Driving
When you hire a driver you will be entrusting them with one of your vehicles and the wellbeing of your passengers. Although their job will involve more than just driving it will be at the core of what they do. That is why before making a consideration about if you can hire them you need to go on a driving test with them. If you don't have a driving test The Limousine Operators Guide to Hire Train and Retain includes a driving test you can adopt and start using
Check References & Call Past Employers
References are critical. When hiring a driver, you want to be able to find out as much information as possible before offering them a job—and these days, it's easier than ever to check references. Of course, you should make sure your potential employee is comfortable with providing references—but if they are, make sure you follow up on them. More importantly take the time to reach out to their most recent employer. When dealing with past employers pay close attention to their tone and the way they speak about the applicant. Also make sure to ask about their attendance, reliability and if they would re-hire them.
Check Their Documents
Before hiring a driver, make sure to check his or her credentials. This means checking proof of identity, motor vehicle history reports and proof of legal right to work —as well as valid licenses and insurances. If hiring CDL drivers be sure to check that they have all the required endorsements they will need. Also keep a close watch for red flags such as personal hygiene, discrepancies between what they say and documents show as well as their overall demeanor.
Bonus Tip: Lock in Hires Quickly
One of the best ways to hire good drivers is to hire quickly. Keep in mind that if you don't commit to the driver they will likely continue to look for work. This means that by the time you decide to hire them they may already have other offers have accepted another offer. If you think they will be a good fit let them know. Tell them what the next steps are and don't be afraid to tell them that they can stop looking.
Summary & Closing Considerations
When it comes to hiring. You need to think about it as investment. The time and effort you put into hiring and the people you bring onto your team will be paid back to you by the results your team produces for you. The more time you put into hiring the right people the better your overall results will be!