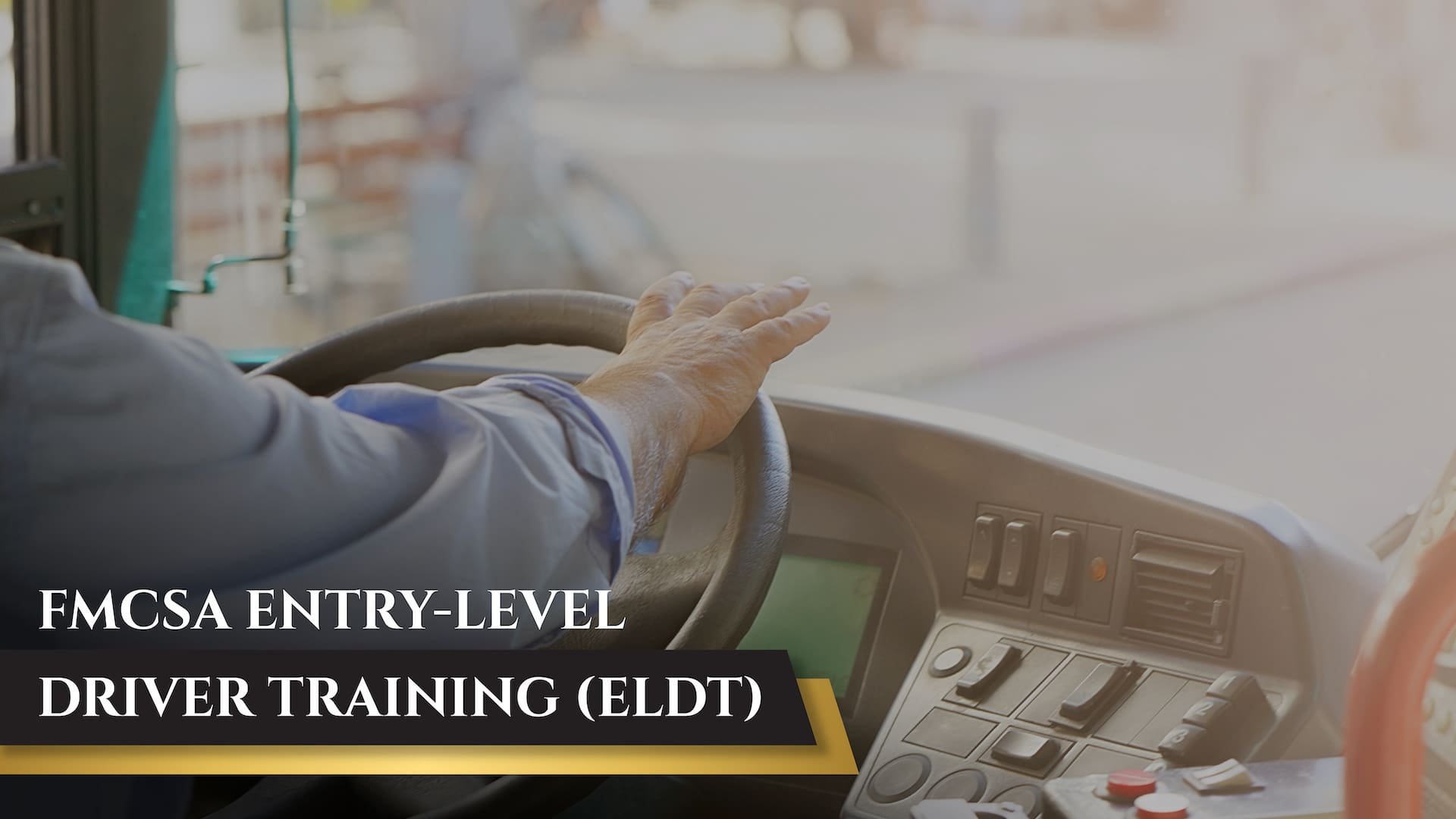 On February 7th, 2022 the new Entry-Level Driver Training (EDLT) requirements went into effect. These requirements are an important step forward for the safety and education of commercial drivers, but may have the unintended consequence of making it more difficult to obtain a CDL for the first time, upgrade a CDL, or add an endorsement.
Who does this apply to?
ELDT training is required to do any of the following:
Obtain a Class A or B CDL for the first time.
Upgrade an existing Class B to a Class A CDL.
Obtain a passenger (P), school bus (S), or hazardous materials (H) endorsement for the first time.
Additionally, anyone exempt from taking the skills test under 49 CFR § 383 will not be required to go through ELDT.
For most in the ground transportation industry, the two key requirements that will apply here are new drivers who are required to take ELDT to get their Class B CDL with passenger endorsement and existing CDL drivers who need to add a passenger (P) endorsement.
What is Entry-Level Driver Training (ELDT)?
Entry-Level Driver Training (ELDT) consists of a set curriculum that a driver-trainee must complete with a training provider that is listed in the FMCSA Training Provider Registry. The structure of the training is similar to the process used to train pilots. Just like a pilot in ground school, driver-trainees start with "Theory Training", this is where they learn about their vehicle, relevant regulations, and what it means to be a commercial driver.
In the same way that a pilot would graduate from ground school to training in an airplane, once a driver completes their theory training they move on to, "Behind-the-wheel Training". This is broken up into two parts, "Range", which takes place in a parking lot or other closed driving course, and "Public Road", which takes place on city streets and highways.
Once the driver-trainee completes ELDT the training provider uploads their training records to the FMCSA Training Provider Registry . When that driver-trainee goes to take their CDL Skills Test the local DMV will check to ensure the records show the correct ELDT was done.
If the DMV is unable to verify through the FMCSA Training Provider Registry that the driver-trainee completed ELDT for the corresponding Class and Endorsements they are testing for they will not allow them to take the CDL skills test.
Although FMCSA outlines exactly what topics must be covered throughout this process they do not provide a curriculum or any training material. In addition to the curriculum requirements, there are also several other regulatory and compliance-related requirements as well, such as tracking the time students spend behind the wheel, ensuring instructors meet the minimum requirements, testing, and properly documenting driver-trainee completion & progress.
To make sure companies have all the materials, training, and meet the necessary requirements to provide ELDT, we have created the the PAX ELDT Complete Training Program. This program includes everything you need to put in place an in-house ELDT program to help drivers obtain their Class B CDL and Passenger Endorsement.
Does this affect my current CDL drivers?
The good news is that since the requirements are not retroactive it will not affect any of your current drivers that already have their CDL and applicable endorsements. These drivers will not be required to go through ELDT to maintain their current license.
However, an existing CDL driver would still be required to take ELDT to upgrade their CDL or obtain a P, S, or H endorsement for the first time.
What about Air-Brakes and Manual Transmissions?
Air-Brakes and manual transmissions do not have associated endorsements. Instead, these are regulated through restrictions placed on the license indicating that the driver cannot operate a vehicle with the corresponding restriction.
Since restrictions are not part of ELDT there is no change in the way these restrictions are handled as a result of the ELDT regulation. A no air brake (L), no full air brake (Z), or no manual transmission (E) restriction can all be removed from a CDL without the need to complete ELDT.
It is also worth noting that since these restrictions are not covered as part of ELDT a driver-trainee could complete ELDT, take their CDL test in a vehicle that does not have air brakes, and get a CDL license with an air-brake restriction. Or they could complete ELDT and take their test in a vehicle with air brakes and obtain the same CDL without an air-brake restriction.
How will this impact my business & our industry?
Ultimately the goal of ELDT is to ensure that drivers have a deeper understanding of how to safely operate their vehicles even in challenging conditions. However, just as with anything else ELDT will have pros and cons for businesses and the industry as a whole.
On the positive side, it will lead to more qualified, confident drivers since they will have received training through ELDT. As a result, these drivers will likely have fewer violations, accidents, and incidents all of which are costly and time-consuming for transportation companies. This could ultimately lead to lower overhead costs and improved customer service experiences.
On the negative side, it could lead to higher costs for hiring new drivers due to the time and cost associated with getting a CDL. Now if you want to CDL a driver and are not doing ELDT in-house it will likely mean expensive CDL schools. In addition to the high cost at these schools, there is also the risk of drivers being convinced to go over to trucking or other industries.
State-specific requirements
The ELDT regulations are federal, so they will apply regardless of the state where the CDL will be issued. States cannot put in place laws that undermine ELDT requirements, however, they can put in place laws that are more restrictive or that add additional requirements or steps. It is also important to note that part of being compliant with ELDT is being compliant with any state or local laws. If you are out of compliance with anything at the state or local level it will automatically make you out of compliance with ELDT at the federal level.
For example, some states require a minimum number of hours with an instructor conducting behind-the-wheel training before a driver-trainee can take their CDL skills test. Some states also require anyone training CDL drivers to be registered and licensed.
Does PAX offer ELDT related training and materials?
Performing ELDT in-house is one of the best ways to reduce the costs associated with ELDT and ensure drivers are not poached or convinced to move to other industries while they are going through the process of getting their CDL.
To help companies meet the requirements PAX Training offers the ELDT Complete Training Program. In addition to providing step-by-step guidance on curriculum, compliance, and instruction methods. It also includes one-on-one support to get registered with FMCSA, your state, and implement everything needed to start training. You can learn about the program by visiting PAXTraining.com/ELDT