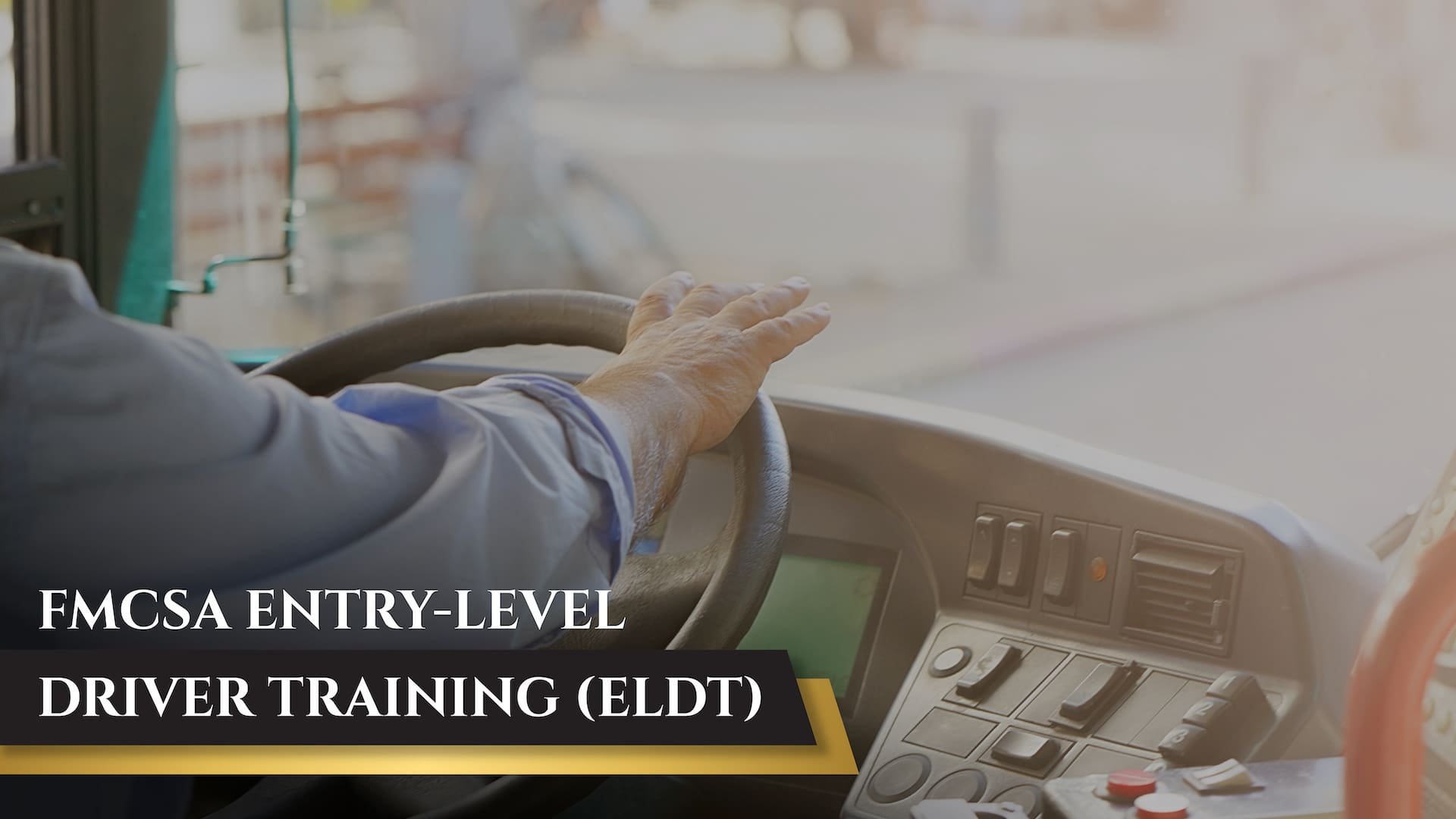 There has been a lot of talk about the FMCSA Entry-Level Driver Training Requirements that go into effect on February 7th, 2022. In this article we will answer common questions and give you an overview of how this might affect your business.
What is the Entry-Level Driver Training Requirement?
The Entry-Level Driver Training (ELDT) sets a federal standard for training that new CMV drivers will need to receive prior to obtaining their license. The training consists of both, Theory Training and Behind-The-Wheel (BTW) Training.
Theory Training topics will include:
Basic Operation
Safe Operating Procedures
Advanced Operating Practices
Vehicle Systems and Reporting Malfunctions
Non-Driving Activities (e.g., Hours of Service)
Behind-The-Wheel training will cover the operation of a CMV on a range or public roads.
Who does this apply to?
ELDT training will be required to do any of the following:
Obtain a Class A or Class B CDL for the first time.
Upgrade an existing Class B CDL to a Class A CDL.
Obtain a school bus (S), passenger (P), or hazardous materials (H) endorsement for the first time.
The ELDT is not retroactive and drivers that already have their CDL or an applicable endorsement will not be required to take the ELDT in order to maintain their current license. However, as mentioned above they will be required to take the ELDT in order to upgrade from Class B to A or to obtain an S, P or H endorsement.
It should also be noted that drivers that have a CDL learners permit that was issued before February 7th, 2022 will not be required to complete the ELDT in order to obtain their license.
Additionally, anyone exempt from taking the skills test under 49 CFR Part 383 will not be required to go through the ELDT.
Who can administer this training?
Training must be performed by a training provider that is listed in the FMCSA Training Provider Registry. Only training providers in the registry will be able to submit certification of a drivers completion of the ELDT. This must be done before taking a CDL skills test or in the case of the H endorsement, the knowledge test.
How will my business be impacted?
Since the requirements are not retroactive any driver you currently have will not be required to go through the ELDT to keep their current license and endorsements. However, when hiring new drivers you should consider their current license and take into account that in order to add a Passenger or School Bus endorsement they will need to go through the ELDT.
When hiring drivers that do not hold a CDL with the intention of helping them obtain one, you will need to take into account the time, cost and other investments that will be required for them to obtain it. Also keep in mind, completion of the ELDT does not guarantee that a driver will be able to obtain their CDL. They will still be required to successfully complete their skills test or in the case of an H endorsement, the knowledge test.
ELDT Interest Form
At this time PAX is gathering information to help us determine what trainings and materials related to the ELDT our members would be interested in. If you are interested in training or materials related to the ELDT please let us know by completing the form below: