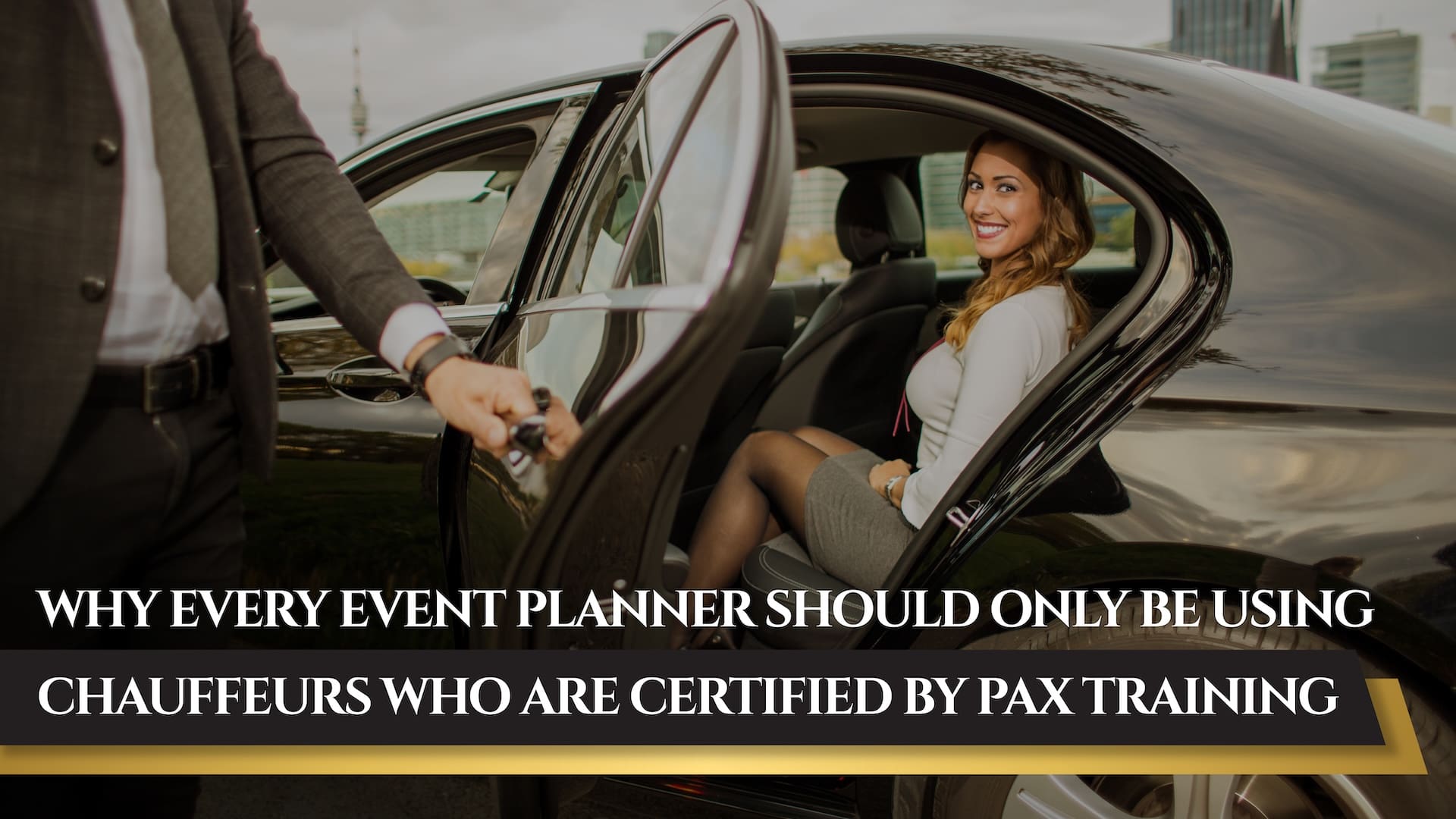 As an event planner, you meticulously plan every detail and vette every vendor to ensure your event runs smoothly. But what about your ground transportation partners? Before attendees even arrive at your event, a bad chauffeur can make it unforgettable for all the wrong reasons, while a great chauffeur experience can make the event memorable for all the right reasons before it has even started!
PAX in Latin means "Peace," and at PAX Training, our goal is to provide "Peace of Mind" to both you as the event planner and your attendees. By ensuring you only use chauffeurs certified by PAX Training, you can ensure your event transportation is more than just a ride; it's an experience and helps set the tone for your event. Here's why.
Superior Customer Service
At the heart of any successful event is the experience your attendees have. When you hire a company that has certified their chauffeurs through PAX Training, you're not just hiring a driver; you're acquiring a professional who has undergone extensive training in customer service. PAX Training Certified chauffeurs understand that they are an extension of your event, representing the quality and professionalism you stand for.
They're trained to handle every possible scenario, whether managing challenging road conditions or accommodating specific passenger needs. They have the knowledge and skill to create a comfortable, enjoyable, and memorable experience for your attendees.
Dependability You Can Trust
Reliability is a cornerstone of the PAX Training Chauffeur Certification. As an event planner, you face enough uncertainties; your attendee's ground transportation shouldn't be one of them. With PAX Training Certified chauffeurs, you choose punctuality, reliability, and peace of mind.
PAX Certified chauffeurs are committed to being on time, every time. They're skilled at planning routes to avoid traffic and ensure a smooth, stress-free journey. Moreover, they uphold the highest standards of professionalism, dressing appropriately and maintaining the cleanliness and comfort of their vehicles.
Uncompromised Safety
From a short trip of just a few blocks to cross-town or even cross-country, ensuring passengers are transported safely and comfortably is paramount.
A PAX Training Certified chauffeur ensures a smooth and relaxing journey, setting a positive tone as attendees arrive at your event. This holds true regardless of the distance traveled. Opting for a chauffeur certified through PAX Training guarantees that your attendees are in the safest hands, starting your event on a serene and upbeat note.
The PAX Training Chauffeur Certification equips chauffeurs with crucial skills such as defensive driving and hazard recognition, preparing them for any road conditions they might encounter. Adhering to stringent safety standards, they continually aim to exceed these benchmarks to ensure the utmost safety and smoothest experience for passengers. With PAX Training Certified chauffeurs at the helm, you can confidently assure your attendees that they are in the safest hands.
Choosing Excellence with PAX Certified Chauffeurs
Selecting a PAX Training Certified chauffeur means choosing an unparalleled blend of safety, superior customer service, and dependability. But don't just take our word for it. Check out the PAX Certified companies listed on our members page and experience the PAX difference yourself.
---
Remember, when you invest in PAX Training Certified chauffeurs, you're investing in the success of your event. The quality of service they provide reflects well on your event and you as an event planner. By choosing PAX Training, you're choosing excellence. The next time you're planning an event, make the right choice – choose PAX Certified chauffeurs.